earing aids: How to choose the right one
Many types of hearing aids exist. So which is best for you? Find out what to consider when choosing a hearing aid.By Mayo Clinic Staff
Perhaps you've thought about getting a hearing aid, but you're worried about how it will look or whether it will really help. It may help ease your concerns to know more about:
The hearing aid options available to you
What to look for when buying a hearing aid
How to get used to a hearing aid
Hearing aids can't restore normal hearing. They can improve your hearing by amplifying sounds that you've had trouble hearing.
How hearing aids work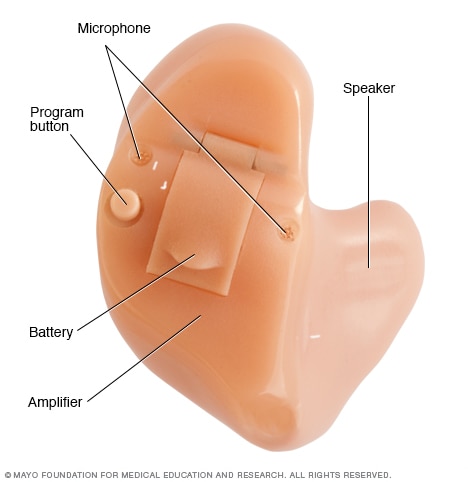 Open pop-up dialog box
Hearing aid parts
All hearing aids use the same basic parts to carry sounds from the environment into your ear and make them louder. Most hearing aids are digital, and all are powered with a traditional hearing aid battery or a rechargeable battery.
Small microphones collect sounds from the environment. A computer chip with an amplifier converts the incoming sound into digital code. It analyzes and adjusts the sound based on your hearing loss, listening needs and the level of the sounds around you. The amplified signals are then converted back into sound waves and delivered to your ears through speakers, sometimes called receivers.
Hearing aid styles
Psychology is the scientific study of the mind and behavior. Psychologists are actively
udiology is a branch of science that deals with hearing and hearing related
Psychology is the scientific study of the mind and behavior. Psychologists are actively
udiology is a branch of science that deals with hearing and hearing related